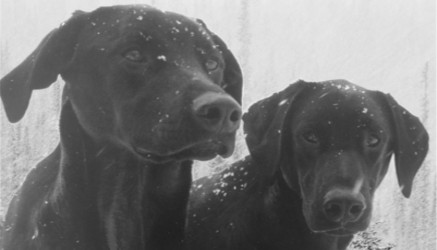 There's just something about a pair of mutts.
I've known some great pure bred dogs, but give me a labradoberidgebackshepherdcolliepitboxer any day. If there's two from the same litter you've really got my attention... If they're both black you might as well put them in a box because I'm taking them home.
The Spot and Smudge series of stories are inspired by just such a pair of rescued littermates. I really did name them Spot and Smudge, and they did indeed run together through the thick woods of the South Shore of Massachusetts, not unlike the trails of Pembury in my books.
Like the Spot and Smudge in the stories these two were a mix, mostly lab but with more than a dash of (pic your breed) tossed in. We suspect Mom and Grandma may have not been overly picky in the mate department. Both pups were all black from head to toe and had silky thick coats often used as feet warmers during our chilly New England winters.
Although the real Spot and Smudge had normal paws and below-average intelligence at times, they left wonderful imprints (and more than a few stains) on our lives from the first day their sturdy puppy legs carried them into my lap. They were never more than a few steps apart until Smudge, the lovable daft brute, died of cancer at age five. His bright and infectiously affable brother Spot carried on well into his teens. His many years were filled with two and four legged friends who made sure he was never alone again.
Tales of their many antics still get shared at our holidays, and more than a few of them have made it into these books.
I have added some pics of my faithful wee knotheads below...I hope you enjoy them, and the stories they've inspired.
If you're enjoying the books please consider joining our newsletter here, and leaving a review here. It's greatly appreciated.